It is a rest day from the Blogging from A-Z challenge today, so I wanted to fill the gap with a Daybook entry. Things have been pretty hectic recently and I am enjoying blogging regularly again so here we go:
For Today… Easter Sunday 2015
Outside my window… the sun is setting on a glorious Easter Sunday. The sun has shone, the sky was blue and I had my first load of washing of the year out on the line to dry today.
I am thinking… about how sometimes, the biggest lies we tell are the ones we tell ourselves.
I am thankful… for my Mum and Dad's roast lamb dinner today.
I am wearing… blue shorts, white vest.
I am creating… not very much at the minute. I have a huge backlog of studying to do, including two assignments which are due in soon. Even though I am loving my studies, I am feeling more than a little jaded just now and it is showing up in the fact that I am not being as creative as I would like to be. I am looking forward to the time soon when I can crochet or sew with impunity, or can get my sketching/painting stuff out without feeling guilty about spending time on them.
I am going… out for the day tomorrow with my husband. We don't know where yet but we are looking for somewhere where we can see Morris dancing, or an Easter fair or something. We quite like road trips so driving a distance is no problem for us. In fact, the journey is half the fun.
I am wondering… how my father in law is doing today. He has had a marked deterioration in his mental capacity since the funeral on Thursday and he is now showing behaviours that we don't recognise in him. We are worried about him.
I am praying for… obviously my father in law, but my husband also. He has just lost his mum, and to all intents and purposes his dad is nearly lost too. It's a lot to take in and deal with all at once and I am praying for strength and patience for him. I am also praying for Joanne and her family. They are facing an end of life situation and it is very painful for them. I am praying for peace and healing for them.
I am reading… "Soul Music" by Terry Pratchett. I have recently read "Mort" and "Reaper Man" and have thoroughly enjoyed them both so I have high expectations from this one too!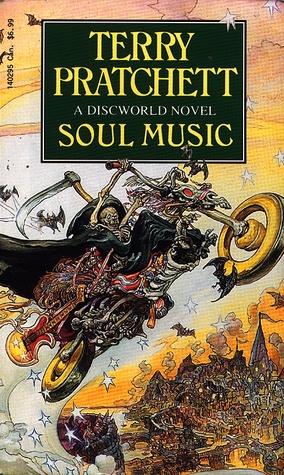 I am hoping… for sunshine tomorrow.
I am learning… how to write a song, how to harmonise a melody and how to modulate the key. And I'm loving it.
In my garden… I have a little area of decking that we built about 15 years ago and it needs some attention now the winter is over. We like to sit out on it during the summer and every couple of years we need to treat it with preserver. This year is a year for some re-staining too. I might even get round to planting some plants in pots for it.
In my kitchen… we enjoyed a lovely roast dinner with my Mum and Dad today. Roast lamb with all the trimmings. Delicious!
A favourite quote for today… "He is risen!"
A peek into my day…
One of my favourite things… is ice cold Vimto
From the board room…
A few plans for the rest of this week: day out tomorrow, baptism prep night on Wednesday, band rehearsal Friday night, Prayer Morning on Saturday and then a concert for the Mayor of Todmorden on Saturday night. Busy week!!
If you would like to join in with the Simple Woman's Daybook, please visit the host site at http://thesimplewoman.blogspot.co.uk/p/httpthesimplewoman.html